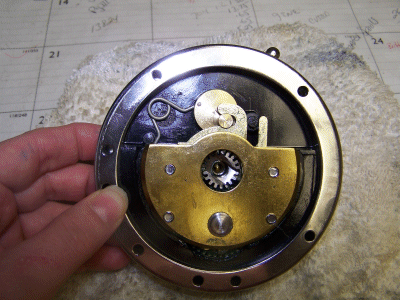 Got the request:"How do you position the dog spring on the 114 and what's the trick for keeping it there when you do?". After taking apart the 114 right side plate assembly, I can understand the frustion. Helpful tip #1: You can place tape over the ends of the bridge screws on the outside of the reel to hold them in place while you are working on the reassembly.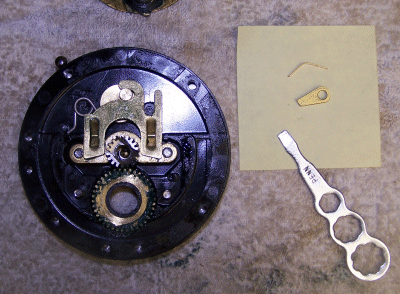 The bridge is out of the way. Dog and Dog Spring are set aside. Helpful tip #2: Note the bend in the dogspring.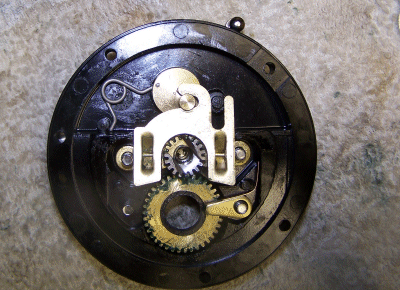 Note starting placement of dog and the position of the dog spring, as well as the position of the eccentric lever. If everything isn't in the right position, you won't be able to complete the reassembly.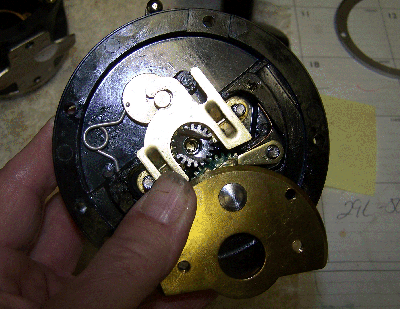 Start by placing the bridge into the assembly upside down, nudging the dog into the ratchet.
NOTES BY MizMo: Here is another place where removable tape can help you.
Using removable scotch tape (Magic Tape), tape over the dog and spring once you have them positioned. Then when you rotate the bridge into position, gently slide out the tape. MUST be removable tape.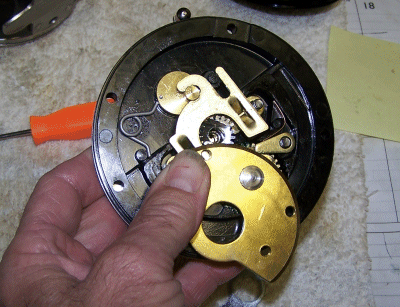 Step by step, rotate the bridge around into proper position, using the fingers of both hands to hold the parts in place. (We're only showing one hand here so that you can see what needs to be done)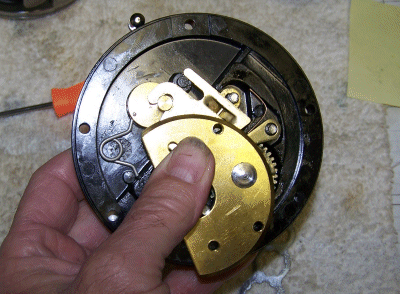 Go a little at a time to keep from losing control of the assembly.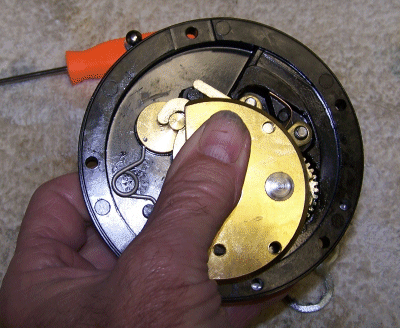 Almost there.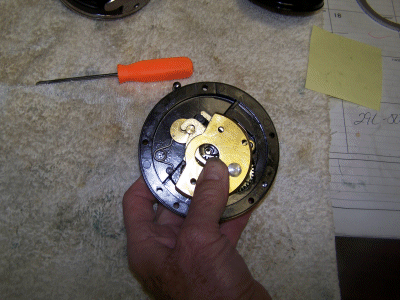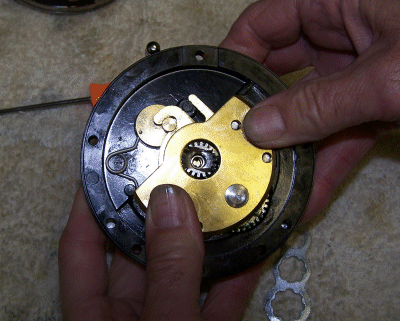 There! Into postion on the pinion gear with everything in place. Now start removing the tape on the other side and tighten the bridge screws to lock it all down. Last step set the eccentric lever and wiggle the bridge sleeve with your fingers to make sure the dog is working.

Copyright 2008© MysticParts.com