The 700/704 Spool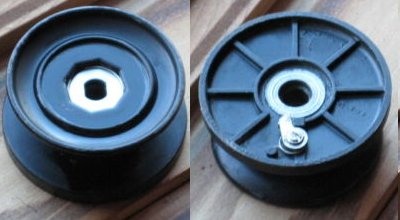 This modification is for the older spools with the grid design on the underside of the spool. This originally used these parts:
48-700 Click Tongue (replaced by 48-9500 needs modifiction, see below)
50-704 Click Tongue Screw
5-700 Dog Spring (replaced by 5-704)
NOTE that the newer 48-450 click tongue for the 704Z/706Z black/gold reels WILL NOT FIT on the older 704/706 spool with the grid underneath the spool. The older grid spool also does not use the 49-710 Spring or 48A-750 Click Tongue Washer.
Modifying a new Click Tongue to fit: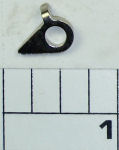 Use the 9500SS click tongue #48-9500 (shown above) and bend the tab upward (tab actually has no function for this reel, it's just in the way) so that the dog can sit down into position on the spool and the tip makes proper contact with the inner ring on the spool. Bore out the hole on the click tongue slightly so that the 50-704 screw will set correctly.
To reiterate, use these replacement parts:
48-9500 click tongue (you MUST make the above modifications to it)
5-704 dog spring
The 50-704 screw
Order parts online for this reel(s):
https://www.mysticparts.com/PennParts/Spinning.aspx#SS1stGen
---
The 706 Spool Complication
We found this one out in 2016, coutesy of Keith Rawson.
MUST READ!
There is another clicker design setup that was found on an 706 older black spool that CANNOT use the above workaround!
The conundrum here that you can't see very well is that the stub looks like it can use the newer gold spool clicker setup..the long spring would be fine...but the newer TONGUE is to short to reach on the black spool. The workaround for the green spools also does not work.

This appears to be an in-between design.
At this time, we have not found a solution for it.