IMPORTANT CHANGE FOR
10KG, 15KG, 24KG Reels
Penn is substituting the handles used on the newer series GLD30II and GLD20II (which replaced the KG reels) for the original 24-15KG handle.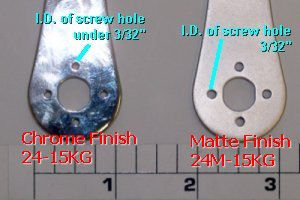 This requires parts a change in the Shift Housing Screw (NEWER handle uses 23-15KG quantity 2) as well if you are going to make the change. USE THE PHOTO ABOVE to check your handle's blank to determine which handle you have on your reel. In addition to the sides of the holes being larger on the newer handle, the finish is matte rather than the original chrome.
Order parts online for this reel(s):
https://www.mysticparts.com/PennParts/Conventional.aspx#Formula